Discover Immediately
Applicable Tips
Earn Certificates &
C.E. Credits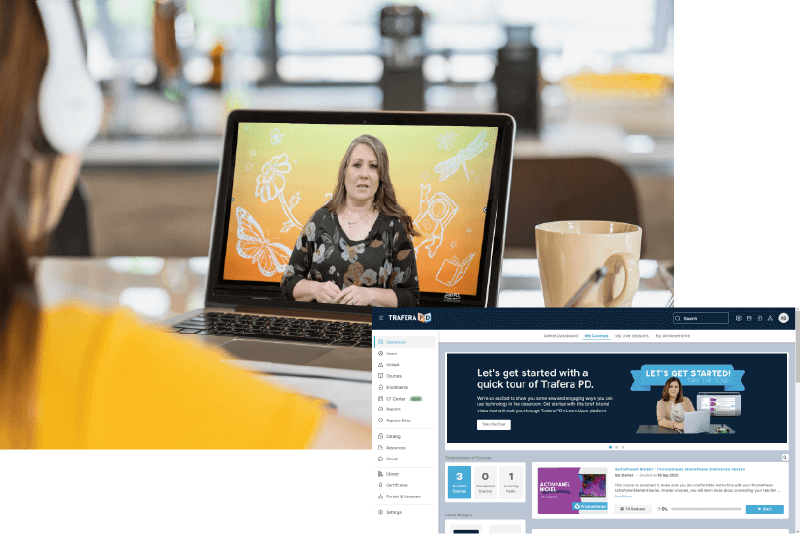 Blending product & pedagogical training
Our trainers are experienced in the artform of teaching with technology, and they bring that mindset to every Trafera PD course.
Through engaging asynchronous lessons, you learn to connect product knowledge with its application in the classroom.
When it comes to teaching with tech, it's more than pushing buttons. It's using modern tools to take your instruction higher and achieve more with your students.
Become the "tech-savvy" teacher
Learn how to apply popular classroom technology tools to your everyday teaching:
Newline Flat Panels

Promethean ActivPanel

Chromebooks

Google Workspace for Education

Microsoft Office

Education Apps and Extensions

Chromebooks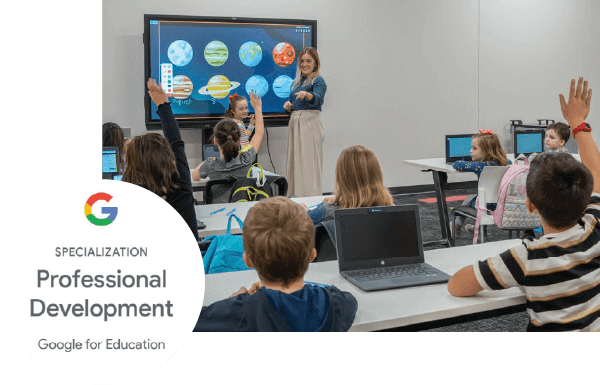 What Others Say About Trafera PD
Getting Started with Distance Learning
I must admit I am 65 years old and technology is challenging for me. The fact that I can go back, take notes, and listen again to instructions of something I do not fully understand is great.
Ynes
Very Engaging
This Intermediate and Advanced training for the next level of Google certification was engaging, and I liked the enthusiasm of the instructors.
Heather
I Learned a lot!
I went into the training thinking I knew a lot of the information that was going to be presented, however, I learned a lot! This was a very informative training and the presenters were fun.
Amy
Info I've Been Wanting!
I've been wanting to learn how to use several of the object tools. Now I'm ready to enhance some of the older flipcharts that I've been using. Also excited to use some of the features from the browsers tab that I didn't realize were there.
Lacey
Great Learning Experience
I'm familiar with flipcharts, but not knowledgeable about all that can be done with the Tools and other features. Very educational and enjoyable learning.
Larrie
Interesting and Practical
Although it was long, it was enjoyable as there were examples of performing and using all the google tools and not just "explaining" how to use the tools. I can't wait to implement all this technology into our school with our teachers.
Jessica
Teacher empowerment included with every purchase
Providing a future-ready education requires more than just access to powerful technology tools. Educators need to be equally empowered with the skills they need to create an instructional shift using these tools.
By connecting product knowledge with its application in the classroom, Trafera's in-person and on-demand professional development (Trafera PD) helps schools improve technology adoption and make an instructional shift using modern technology tools.
On Demand Trafera PD is included in every technology purchase*!
Developed by teachers for teachers
Trafera PD trainers spent a lot of time in the classroom (170 years combined to be exact).
They infuse that experience into every on-demand course, applying modern technology tools to tried-and-true and exciting new teaching methodology.
The result is authentic and engaging trainings with real world application in the classroom.