Class VR
Virtual Reality Technology Designed for the Classroom.
ClassVR is an open platform, supporting Virtual and Augmented Reality curriculum content, as well as allowing students and teachers to create, upload and share their own content, creating a collaborative community of global educational resources.
Create immersive and engaging lessons in a safe and controlled VR environment
Improve students' knowledge retention and understanding
Spark your students' imagination with VR experiences as if they are actually there
Everything you need to bring virtual reality to the classroom
Available in sets of 8 & 30
Each model of ClassVR Headsets are available in sets of 8 & 30.


Charge and ready
ClassVR cases are designed to allow headsets to charge even when the case is closed.
Portable
ClassVR cases are lightweight and portable for safe and easy transportation of headsets.
What's included
ClassVR Headsets come fully equipped with everything you need to get started with VR & AR in the classroom.
Available in sets of 8 & 30
Storage and Charging Cases
Teacher Controls in the ClassVR Portal
State Aligned Content and Resources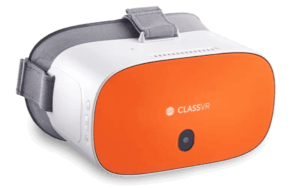 Headset Configuration and Setup
Teacher Training
Wired hand-held controller
ClassVR storage and charging
Portable, ruggedized storage and charging cases to keep headsets safe and ready for the classroom.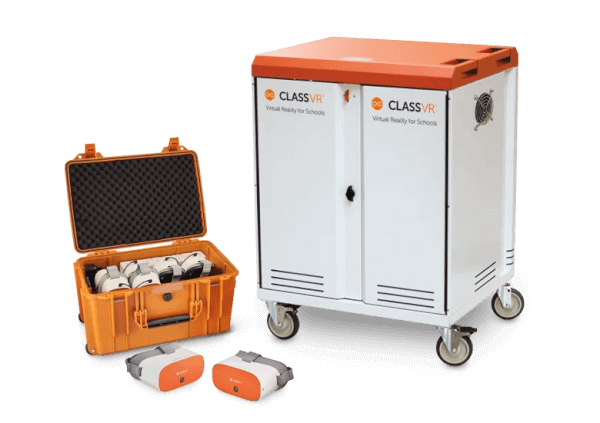 ClassVR headset
Fully immersive VR/AR experience under the teacher's control.
Everything you need is fully integrated.
HD Display with a student-friendly interface (gesture controls)
Front facing camera
Wi-FiA battery that will last throughout the school day
No extra devices needed
No extra buttons
Embedded resources aligned to curriculum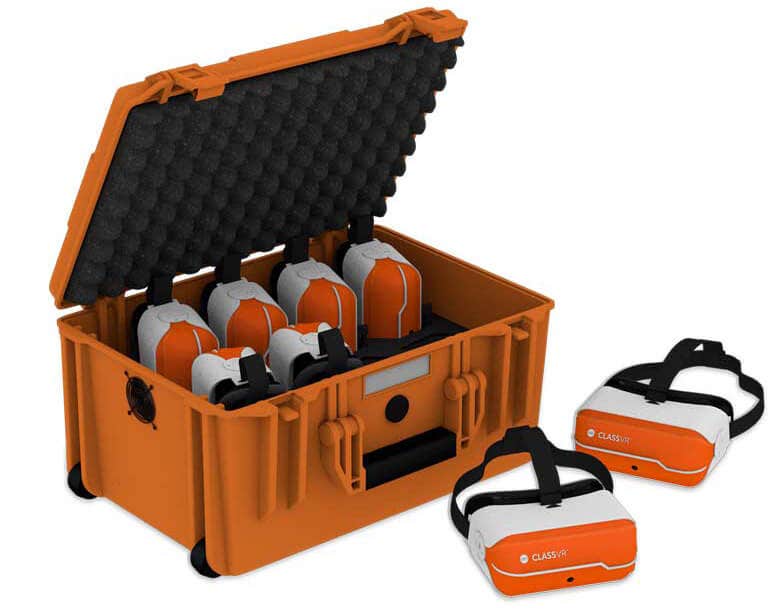 Bring printed materials to life!
Augmented Reality brings educational content to life, allowing students to view and interact with exciting 3D models, providing greater engagement, understanding, and ultimately knowledge retention. The ClassVR headsets include a front-facing camera and our proprietary ARC (Augmented Reality Classroom) app, so students can get up close and personal with content, such as a beating heart, simply by looking at one of the worksheets.
Over 500 virtual reality resources available.
Historical Times, Habitats and Nature, Science and Technology, Art, Culture, …and many more.
Grants and Funding
Download our helpful tips to apply for grants and funding in the US.
Ease of use
Simply hold and look through the device, Use the head strap for a hands-free experience, & Lightweight and comfortable.