November 22, 2021
5 min read
As technology has become more and more essential to the modern learning experience, finding effective ways to store and charge devices like Chromebooks, tablets, iPads, and Windows laptops has become just as essential.
But with storage options ranging from carts and cabinets to towers and beyond, determining and sourcing the right solution can be easier said than done. Ultimately, making the proper choice starts with understanding what you need your storage solution to accomplish and which brands to partner with to get there effectively and affordably.
Here is a breakdown of what to look for in a classroom technology storage solution and some devices that can help meet your needs to keep your hardware charged and your students productive.
What to Look For in a Technology Storage Solution
Understanding your needs is the first step in determining the right storage solution, and every classroom's priorities are different. Maybe you're most concerned with saving space. Maybe securing technology when not in use is a more primary focus.

Thankfully, with the right storage solution, you shouldn't have to compromise on any of your key priorities. Above all else, an effective technology storage solution should aim to ensure devices are:
Safe and secure when not in use – either overnight or throughout the day
Neatly organized for easy management, access, and replacement
Always charged and ready to go whenever a student or teacher needs to get online
Now that we know what to look for in a technology storage solution, let's take a look at three of the most common types.
Types of Storage Solutions
There are many different types of storage solutions out there, all designed to suit the varying needs of modern learning environments. For our purposes, we'll take a look at three of the most popular: charging carts, charging cabinets/lockers, and charging towers.
Charging Carts
Charging carts are storage carts on wheels that house trays and power sources so devices can remain organized, secure, and powered up when not in use either during the day or overnight. Charging carts can store up to 40+ devices per unit, offering extensive capacity for classrooms with elevated technology needs. The fact that they're on wheels also makes charging carts a great solution for schools that pass devices from classroom to classroom, rather than needing to have a separately assigned set for each space.
Top-loading carts with baskets can also provide additional value, adding up to 70 hours of teaching time back into the classroom. A universal top-loading cart backed by a lifetime warranty and built to last can accommodate most any device you need to charge today in addition to supporting future devices like robots, drones, and more.
LocknCharge Joey Cycle Charging Cart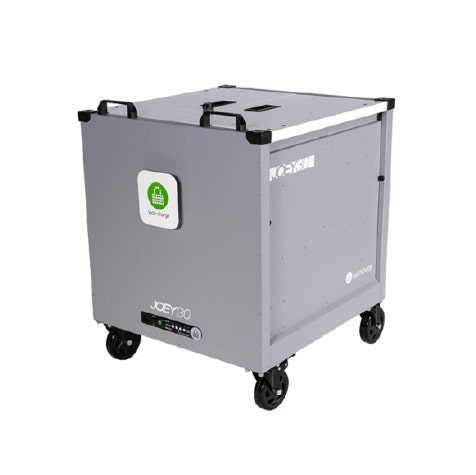 The LocknCharge Joey Cycle Charging Cart enables secure storage and charging of up to 40 of almost any device and is designed specifically to make life easier for small to medium-sized Chromebook, tablet, and iPad deployments.
Key features and benefits
Basket-compatibility can accommodate any tablet or laptop up to 13"
Access from multiple sides allows for quicker distribution of devices
Quick access to cables and simple cable management to wire or unwire a cart in minutes
External charging display helps you easily know when devices are powered up
Heavy-duty construction ensures lasting security.
Charging Cabinets and Lockers
Charging Cabinets and Lockers
Charging cabinets are stationary storage pods that can be placed on the ground, on top of tables or counters, or mounted to a desk or wall. While generally not as spacious as carts, cabinets can still store and charge up to 15+ devices. Cabinets with locker features provide added security for your classroom technology.
LocknCharge Carrier 10 & 15 Charging Station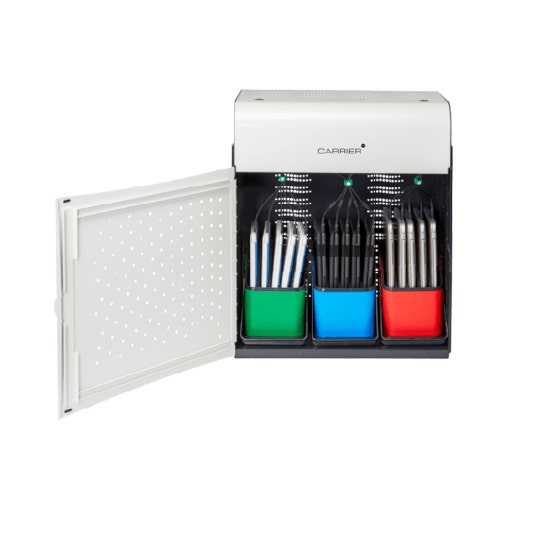 The LocknCharge Carrier 15 Charging Station allows you to charge, store, secure, and carry up to 10 or 15 of almost any device via a wall charging station that can be mounted to a desk or wall for added space-saving.
Key features and benefits
Ability to charge devices simultaneously, including Chromebooks, MacBooks, laptops, and most tablets – with or without most cases
Combination of welded steel construction, mounting kit, and hardened steel padlock keep devices securely protected
Addition of Large Baskets by LocknCharge and a stainless steel device rack allow storage of larger devices up to 17"
Flexible design adapts to surroundings to transform any wall, desk, or bench into a secure space for charging
Easy cable management to wire entire charging station in minutes
Thinking of buying a storage solution? Check out this checklist of things to consider when buying a charging cart or station.
Charging Towers
In addition to providing many of the same benefits of carts and cabinets, charging towers provide individually locking bays that allow for a more flexible and personal "anytime access" charging strategy.
LocknCharge FUYL Tower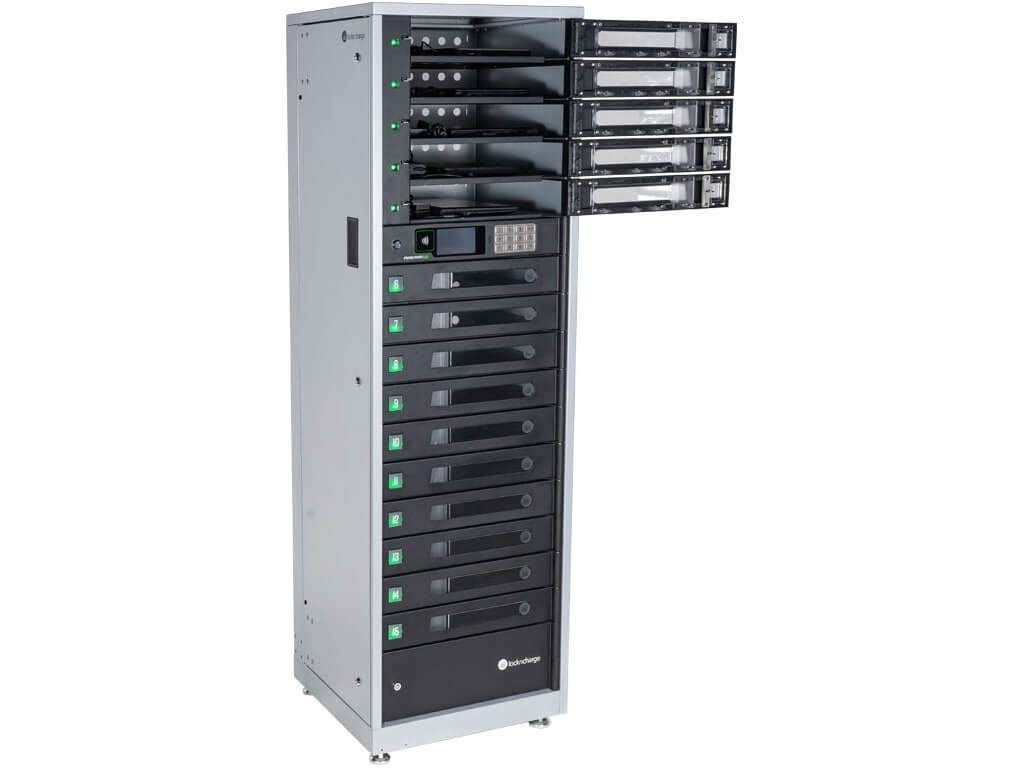 The FUYL Tower from LocknCharge is a smart locker that keeps devices secure and charged in 5 to 15 individually lockable bays – all within one central location. A common use case in education is FUYL Towers being leveraged to secure charged and ready-to-go loaner devices for when students break, forget, or misplace their dedicated technology. Towers can also be used for a check-in/check-out workflow to easily loan shared devices to substitute teachers, for example. The FUYL Tower helps ensure everyone can get online anytime they need to.
Example use case:
When added to your classroom environment, teachers and administrators pre-stock replacement devices into the FUYL Tower's individually locked bays.
When a student needs a device repaired, you can grant them access to one of the bays where they can then swap out the broken device for a working one. With Google Workspace or Microsoft Accounts (Windows Live ID), users can still sign in and seamlessly their stuff even from a loaner device.
Your school's IT team visits the lockers periodically to pick up broken devices and to drop off repaired units, ensuring everyone always has the maximum possible instructional uptime.
Key features and benefits
Provide convenient, on-demand access to break-fix and loaner devices
Protect the health of students and teachers through contactless exchanges
Enable a secure public location for students who need to charge-up during lunch or gym
Speed up the process of assigning devices to substitute teachers
Create a safe place for transient and disadvantaged students to store devices overnight
Free up IT staff to have more time for high-priority issues