March 16, 2023
11 min read
A successful Chromebook 1:1 program can revolutionize education by empowering every student with technology, but without a thoughtful plan, it can be an expensive and fruitless endeavor. That's why–after the tidal wave of Chromebooks entered K-12 education during the COVID pandemic–a lot of educators are asking, "is this improving the educational experience, or is it just more stuff?"
As an 8-year veteran tech director and former special education teacher, something that I have found a lot of passion in is helping educators and schools succeed with ensuring that the technology they are using is having the long-term instructional impact they need. A big part of that is having a solid, scalable, and sustainable technology plan in place that starts and ends with a strong focus on technology's effect on teaching and learning.
So, let's talk about what that looks like using an example that most schools are familiar with: 1:1 technology (i.e. one device for every one student).
Going one to one with Chromebooks is a huge investment in both time and money, yet many schools find little to "no evidence that student performance or satisfaction…increase" (Edutopia). That is unless they focus on training, meaningful integration, and smart planning .
Queue the "sticky" tech plan.
What is a "sticky" tech plan?
I love the word "sticky" when talking about 1:1 Chromebook initiatives. What I mean by that is I love the idea that the technology programs I set into action will be able to sustain year after year.
What's more, I'll be able to continuously get the buy-in and support of other decision makers at my school because I'm able to prove the value of continuous investments in educational technology.
It's all about ease and impact. A great "sticky" tech plan needs:
A sustainable and scalable plan
Demonstrable positive effects on education outcomes
Drawing from my years of experience developing and executing Chromebook 1:1 programs, I am going to provide practical tips that will enable you to create "sticky" plans for launching (or fine-tuning) your school's 1:1 program.
PART I: Building a Sustainable, Scalable Plan for your Chromebook 1:1 Program
When putting pen to paper on a new 1:1 program, keep these two things in mind: Is it sustainable? Is it scalable?
Sustainable:
Does this plan carry me 3 years into the future? 5 Years? 10 Years? Indefinitely?
Will I have to reinvent the wheel next time I need to deploy new Chromebooks?
Will this plan be easily communicated and passed on to someone else if I ever leave my current position?
Do I have secure and reliable funding to pay for this initiative's ongoing success?
Scalable:
Would this plan work for implementing 10 Chromebooks? Would it work for 1,000? 10,000?
If your answer is "yes" for all these questions, you're well on your way to creating a sticky tech plan. If "no", assess what changes you need to make.
With sustainability and scalability in mind, let's jump into some of the key considerations you ought to be factoring into your 1:1 plan.
Casting Vision with Your 1:1 Program Roadmap
A roadmap communicates your dedication towards a technology plan, acknowledging its significance in student success. It tells the story, "These devices are not just another item on the list, but a factor that can significantly impact the achievement of educational objectives."
This is your opportunity to dream-build and cast vision for everything you plan to do and what you plan to accomplish, today and in the long-term:
What is your timeline?
Who is on your team?

Who is part of the decision making process?
Who is part of the implementation plan (Curriculum and Instruction, Instructional Coaches, other?)

What is your focus?
What are your goals?
What is the purpose?
How are you going to measure success?
By creating a comprehensive plan and mapping out all the details, you can ensure the sustainability of your technology plan regardless of changes in personnel, budget constraints, or any other unforeseeable circumstances.
Inventory Process
To start, you should develop a clear understanding of your inventory process and what devices are currently in use.
Many districts, including my own at the time, made a common mistake when implementing a Chromebook 1:1 program by treating Chromebooks and student devices like textbooks and adding them to our old inventory tracking system.
While this worked to a certain extent, it had scalability issues, and it was difficult for us to maintain accuracy about device assignments, repairs, and the locations of devices. The same issues held true for other classroom devices like laptops and displays.
Look for solutions that allow you to keep track of devices, their locations, and assigned users.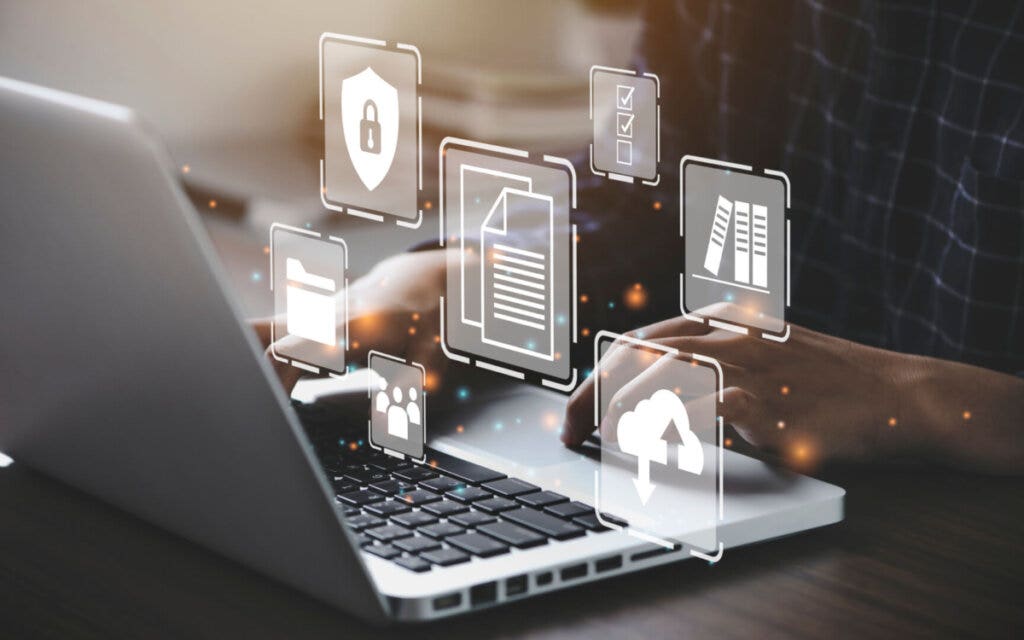 For Chromebooks and ChromeOS devices, Google's endpoint management tools within the Admin Console (included with all Google Workspace for Education licenses) are a good place to start. The Google Admin Console provides you with a general view of your fleet and grants you the ability to manage those devices at a high level.
For even deeper inventory capabilities, I would also recommend adopting an asset management software like Incident IQ. This is great for tracking your school's devices and their current status. You can see who has each device, which devices are broken, which are out for repair, and more.
---
Google Admin is a powerful web-based console that provides schools with a centralized platform for administrators to manage various aspects of the school's digital environment, including user accounts, device management, access control, and security settings.
---
Warranty and Repair
I say this a lot; In order for you to have a real 1:1 program, 100% of students need devices 100% of the time.
Even a 10% malfunction rate can severely impact classroom activities and hinder technology adoption.
Based on data collected by Trafera's repair team, an estimated 6-12% of all student devices break every year. To keep 100% of students equipped 100% of the time, you'll need to account for this with a buffer stock of loaner Chromebooks and a reliable repair plan. This ensures students don't miss a beat, and their original Chromebooks are repaired promptly.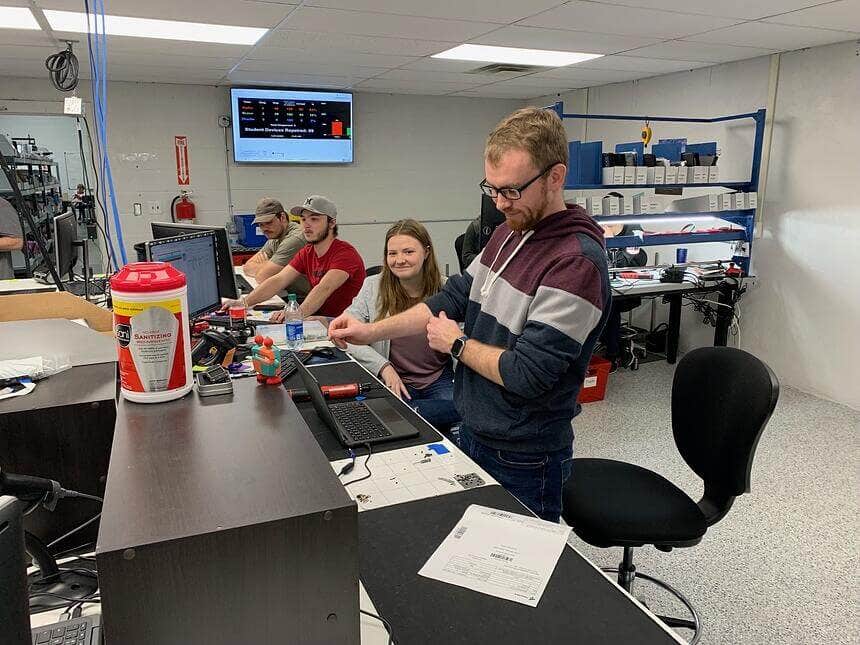 Things to consider for your repair plan:
What's your annual budget for repairs?
Will you repair devices in house or send them in for professional repair?
Will you pay for repairs on a per instance basis or rely on warranty coverage?
If you are looking for a warranty, what features are most important to you?

Battery coverage?
Theft/loss?
Low or no deductible?

How long should you account for repairs?
If you do choose to go down the warranty route, which I highly recommend if you have the right partner, remember that the typical warranty lasts between 3-4 years for a Chromebook. Take that into consideration when planning out your replacement cycle.
Planning Your Replacement Cycle:
Chromebooks have a finite life cycle. That's the simple truth about 1:1 technology investments… you're going to have to make them again and again. Acknowledging that technology has a limited lifespan and accounting for that in your long-term planning can transform the way you approach your 1:1 initiatives.
In your plan, ask yourself:
Do I have a budget in place for ongoing replacements?
Will I be conducting large-scale replacements or breaking them down into smaller annual cycles?
Is this specific initiative connected to a specific budget group, such as LCAP or Title 1?
Do I have a preferred partnership that you want to use repeatedly, or will you go out for bids every year?
If you are able, using a consistent approach (AKA your sticky tech plan) can significantly enhance your initiative's effectiveness and prevent unforeseen surprises.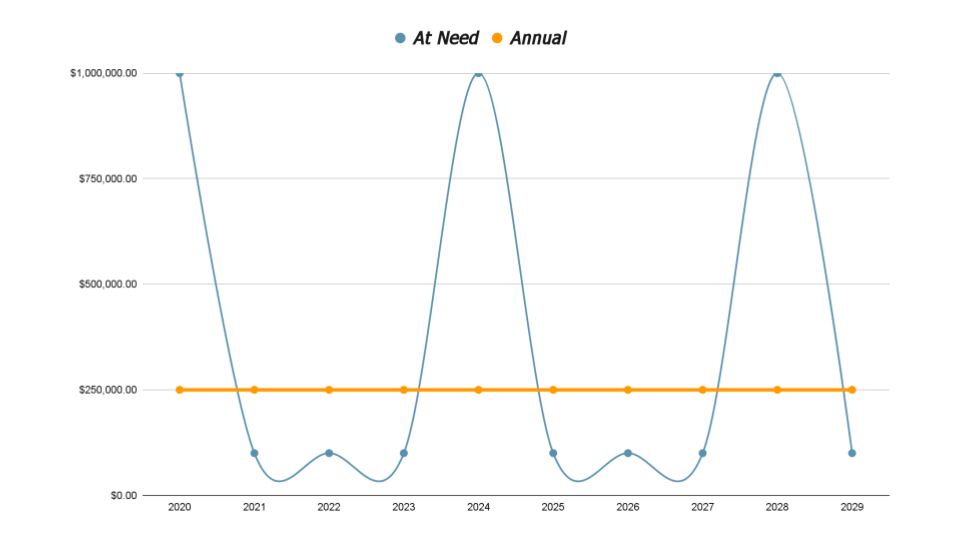 Replacement Cycle Plan Example:
Every school is different and will find success in a million different ways, but here is the replacement cycle my school used that worked really well:
Rather than replacing our schools entire Chromebook fleet every 4 years (see "At Need" graph in Figure above), we set in motion a plan to cycle Chromebooks in and out every year (see "Annual" graph in figure above).
Each year, new students entering the middle school were issued a Chromebook that stayed with them throughout their time at the school (3 Years). At the end of their time in middle school, they could either buy their Chromebooks (for a very low cost) or return them. Those Chromebooks were then decommissioned and (if returned) sold for parts or recycled.
Start of the year = Start of cycle for new Chromebooks given 6th graders
End of year = End of life for Chromebooks belonging to 8th graders
This gave us a consistent annual budget to plan for. It was steady, easy to plan for, less cumbersome to deploy, and a very effective way to manage our technology budget.
---
---
Completing the Classroom Ecosystem
Chromebooks aren't the only technology in today's classroom. In addition to student devices, there are Interactive displays, audio solutions, education apps, classroom tools, teacher/admin devices, and charging solutions to take into account. All are a part of the modern classroom ecosystem. When you're constructing your 1:1 plan, consider how it all works together symbiotically.
Here, I think it really helps to have a technology partner that can help you put the pieces together. Someone who not only can provide consultation about what tech will play well together, but also be able to provide and support that technology.
I can't speak enough about how much of a difference having that partner had on my initiatives. With the help of a good vendor, I was able to collect all the puzzle pieces for my 1:1 plan without the inconvenience of having to deal with a multitude of distributors, manufacturers, and repair professionals.
I had my single go-to for it all.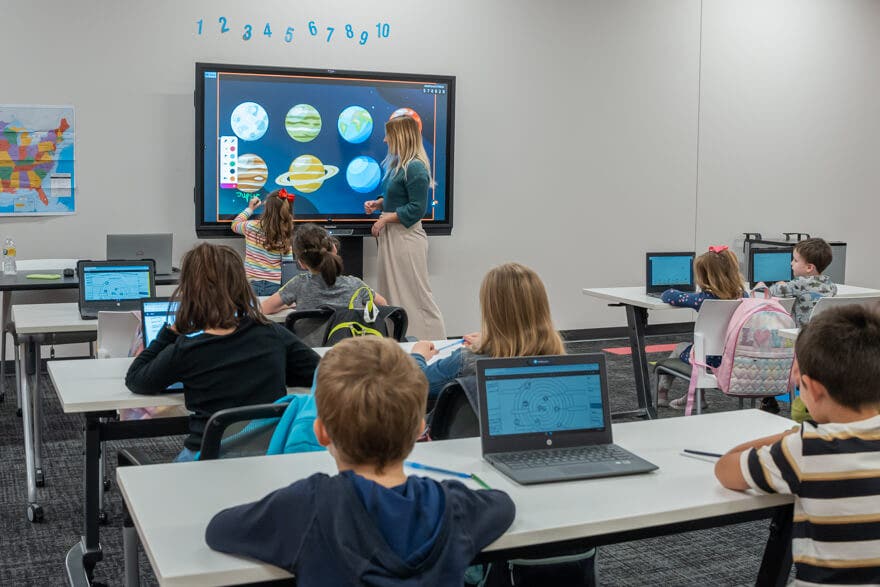 PART II: Developing and Demonstrating Instructional Impact of your Chromebook 1:1 Program
This is where the rubber hits the road!
When we're putting the hours and the dollars into educational technology the #1 goal is positively impacting the school experience. That looks different for every school, but some examples of desired outcomes you might have could be:
Having a strong 1:1 model in place so we're ready for remote and hybrid learning at a moment's notice
Improving differentiated learning in the classroom so students can learn in their own way, at their own pace
Equipping students with technology that prepares them for college, careers, and beyond
Building a simple and smooth digital ecosystem that saves administrators and teachers valuable time
Whatever impact you want to make with your 1:1 technology plan, use it as your north star throughout the entire project.
Then, think about how to demonstrate progress towards that goal.
Collecting Data
We need to demonstrate the impact 1:1 devices are having towards our goals. That means we need usage data.
Usage data provides insight into how devices are being used, and can be tracked and reported through a number of different software's.
I personally used GoGuardian at my school, but I would also be quick to recommend Linewize and Securely for collecting data on how your students and staff are using their school issued devices. With these tools, you can learn when and where students are using devices, what they're using them for, and how much they are using them.
Pairing those numbers with assessment and testing results gives your school a valuable look at whether 1:1 devices are positively impacting educational outcomes.
---
It is important to communicate complex information in a clear and understandable manner, particularly when presenting to important stakeholders such as board members and superintendents. A way to succeed in this is by presenting data using language and visuals that are easily comprehensible to all.
---
Optimizing for Instructional Impact
Chromebooks on their own won't make an impact on education outcomes. It takes teachers to really drive home the success of your Chromebook 1:1 program. If they feel confident and competent using new tools, they will use them more often and they will use them effectively.
Because of that, teacher empowerment should be factored into your sticky tech plan, and it starts with some tech-focused professional development.
Look for professional development that offers more than just technical knowledge. Finding a trainer who can teach your educators on "which buttons do what" is great, but finding one who can tie it all together with pedagogical theory is an absolute home run.
When my school was creating Chromebook 1:1 programs, we sought professional development that helped our teachers get Google Educator I or II certified. That training gave our teachers the hands-on learning they needed to feel confident in integrating Google's tools into their everyday teaching practices. It also gave them novel ideas for things they could try with their students using their Chromebooks.
At the end of the day, it meant that the new Chromebooks we had invested so much time and effort in were being used in really impressive and transformative ways by both students and teachers.
AND we were able to prove that through the data we were collecting.
With a strong set of numbers that prove the value of your tech initiatives, you'll be able to keep the support of your school's decision makers year after year.
---
Explore Trafera's Professional Development (Trafera PD) programs. Our programs for educators combine the art of teaching with modern technology tools, and we're proud to be a certified Google Professional Development provider!
Download our guide!