Wondering which Promethean ActivPanel is the right fit for your school? We've got you covered. In this article we'll introduce you to Promethean ActivPanels and compare the current models of interactive flat panels: ActivPanel 9, ActivPanel 9 Premium, and ActivPanel LX.
If you want to really see harmony between teaching and technology, look no further than Promethean.
Promethean is driven by a vision to transform classrooms into dynamic learning environments. With a steadfast commitment to innovation, they continue to push boundaries, ensuring schools are equipped with the cutting-edge tools they need to succeed.
Their interactive flat panels, ActivPanels, reflect their mission. Each model offers unique features, specifically tailored to meet the needs of teachers, IT administrators, and school leaders.
---
---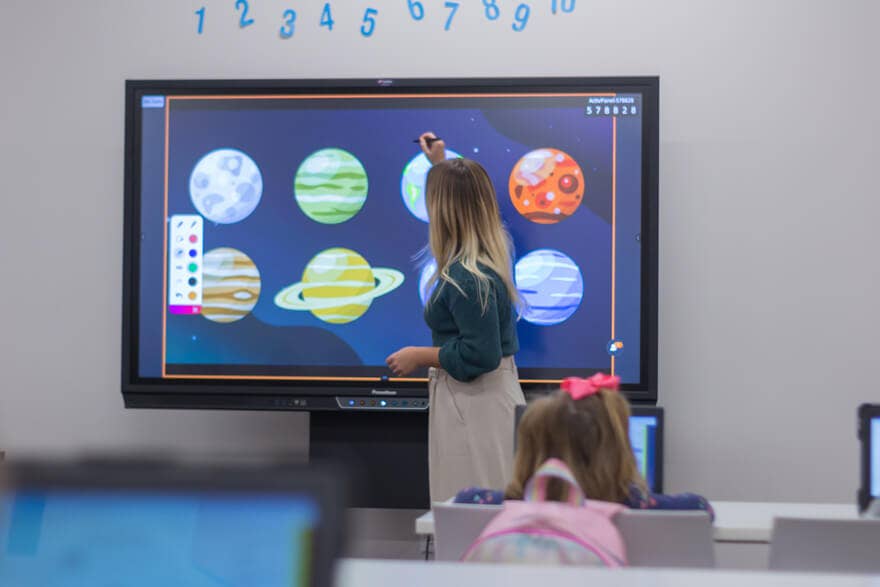 What is an "Interactive Flat Panel?"
You may know them by other names like "touch display," "interactive whiteboards," or even "smart board." Interactive flat panels in all forms have made their way into classrooms around the world. Unlike projector-based touch boards or television screens, interactive flat panels function a lot like a touchscreen smartphone, with apps, browsing functions, internal and cloud storage, and an intuitive user interface.
On a vibrant and captivating screen you can bring bright images and engaging video content into the classroom. Advanced touch technology allows multiple students to write and draw on the board simultaneously. With an on-board or attached operating system, you can engage students by playing games, running applications, and exploring topics through web browsing. You can even leverage the interactive whiteboard to expand on topics, create dynamic lessons, and facilitate interactive activities, while also annotating multimedia content such as PDFs, webpages, images, and more.
To go even further, interactive flat panels allow you to connect to computers, tablets, cameras, speakers, and even more accessories. This makes them incredibly versatile tools that can suit just about any teacher's practice.
With interactive flat panels–like the Promethean ActivPanel–classrooms become vibrant hubs of interactivity, where every lesson is an opportunity for students to engage, collaborate, and learn in new and exciting ways.
Promethean's ActivPanel
So why choose a Promethean ActivPanel? ActivPanel is "cutting edge EdTech that solves real challenges" with innovation focused on five pillars: Connectivity, Longevity, Adaptability, Security, and Simplicity (or CLASS).
Promethean brings over 25+ years of experience producing classroom technology renown for quality and performance. That's how they earned their way into over 1.8 Million classrooms globally.
ActivPanel is #1 for a reason: They focus on teaching, not just technology. Promethean panels are designed by teacher for teachers, and deliver the features and functionality that educators truly care about. From customizable menus and profiles, to functions like screen saving, split screen, and annotation, ActivPanels provide simple and stunning tools teachers can use every single day with their students.
ActivPanel 9 and ActivPanel 9 Premium: Powerful Performance for Immersive Learning
Promethean's ActivPanel 9 and ActivPanel 9 Premium deliver a robust, seamless, and secure user experience. They offer a wide range of features that cater to the unique needs of teachers, IT administrators, and school leaders. With that being said, there are some key differences when it comes to these ActivPanels – let's compare the two:
ActivPanel 9 Premium
The ActivPanel 9 Premium takes the offerings of the standard ActivPanel 9 to the next level, with enhanced performance and added features:
Key Features:
Mic Array and Recording App: Document lessons with ease and clarity.
Bi-Directional ActivSync: Foster an interactive learning environment with dynamic file sharing and content accessibility.
NFC Card Sign-In: Sign-in and jump into lessons immediately upon panel activation with this easy login option.
Built-In Subwoofer: Teach lessons with superior sound quality and enhance auditory learning experiences.
6.5GB RAM and 64GB Storage: Ensure quick data processing and ample space for lesson materials.
Trade-offs:
Higher Price Point: While it offers enhanced features, the ActivPanel 9 Premium comes at a higher price point than the other ActivPanel models.
Best Fit For:
Schools and districts who are seeking an advanced, high performing interactive panel that goes beyond standard features.
ActivPanel 9
Key Features
Roaming Profiles: Effortlessly manage settings, add a security PIN, and connect to Cloud drives from anywhere. This feature also enables users to remotely manage their profiles and log out remotely.
Personalized Accounts Accessible from Anywhere: Create and customize Promethean accounts that can be accessed from any location.
Center Console with Intuitive Remote: Navigate freely around the classroom while maintaining control over lesson content.
Advanced Security: Prioritize data protection with multiple sign in options, remote security update installations, and a quick lock feature,
Real-Time Screen Share: Encourage participation, with a tool that is designed for instinct content sharing, whether learning is happening in-person or remotely.
Trade-offs:
Lesson Enhancement Tools: The ActivPanel 9 lacks features such as an integrated microphone array, bi-directional ActivSync and built-in subwoofers, which can have an impact on recording, sharing and amplification of lessons.
Fewer Sign In Options: The ActivPanel 9

does not

include an NFC card reader, which offers the quickest and most straightforward panel login experience.
Best Fit For:
Schools and districts who are looking for a robust and feature rich interactive panel that offers seamless integration with popular educational platforms.
Educators and districts who prioritize security and privacy features to protect sensitive data.
Educators seeking a user-friendly interface that accommodates users of all levels of tech savviness.
Institutions seeking a versatile and adaptable interactive panel that supports hybrid and blended learning environments
ActivPanel LX: Flexible and Affordable Front-of-Classroom Display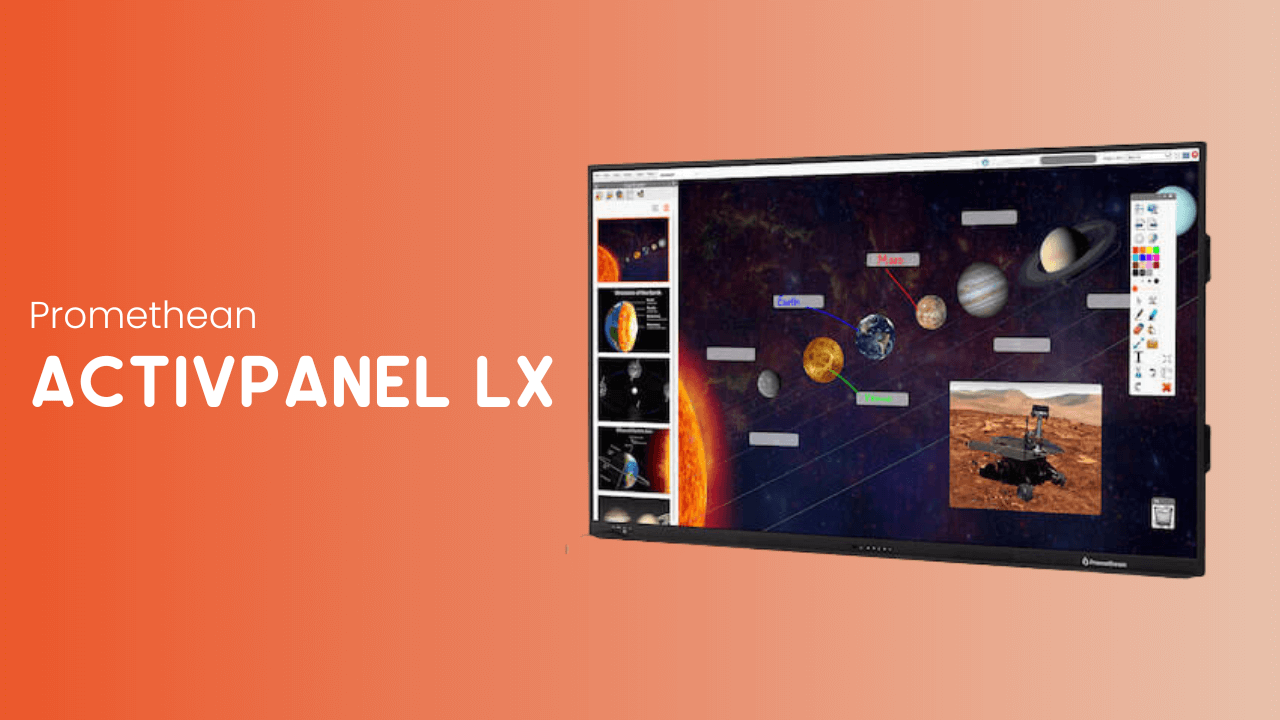 Designed for ease of use, flexibility, and affordability, the ActivPanel LX is a versatile interactive flat panel that meets the needs of modern classrooms. It offers integration with existing technology platforms and familiar software, ensuring a smooth transition and maximum adaptability.
Key Features:
Flexible OS: Connect laptops or integrate computing modules such as Chromebox, OPS-M, or OPS-A to tailor the ActivPanel into a large-scale interactive display that fits your school's computing environment. Unlike other ActivPanels, LX's flexible OS system options allow you to access a wide range of educational apps and tools.
Impressive Value: Despite its affordability, the ActivPanel LX delivers a crystal-clear 4K display, gigabit ethernet ports for fast network speeds, and advanced touch technology for precise and responsive interactions.
Enhanced Security and Authentication: Easily sign in to the ActivPanel using secure methods that don't require manual input. Options like Web Sign-in and QR code authentication through the mobile app provide quick and hassle-free access to the panel.
Cloud Profiles: Customize your settings, preferences, and content and create personalized panel experiences with Cloud Profiles.
Trade-offs:
Limited Features: Although this flat panel has impressive features, especially for its price point, you miss out on some of the advanced features and capabilities of higher-end models with the ActivPanel LX.
No On-Board Operating System: The ActivPanel LX does not come with an on board operating system. This initially limits connectivity features like Wi-Fi, Bluetooth, or Screen Share. However, these can become accessible with the addition of a computing module like Promethean's Chromebox, OPS-M (Windows), or OPS-A (Android).
Best Fit For:
Schools and classrooms who are seeking an easy-to-use, flexible, and affordable interactive panel that integrates with existing technology platforms.
Educators who value simplicity and minimal setup requirements, as well as an interface that requires minimal learning curve.
---
Interested in reading about the success stories of implementing Promethean's interactive flat panels in classrooms? Read these great examples!
About Trafera
The journey of integrating interactive flat panels may seem complex, but with Trafera as your trusted partner, the transition becomes effortless and rewarding. We understand that it's not just about bringing new technology into classrooms; it's about creating an enriched, interactive learning environment that truly engages students and fosters superior educational outcomes.
At Trafera, we go beyond just providing the technology. We are dedicated to supporting you every step of the way. Our commitment to customer satisfaction is reflected in our comprehensive support system, which includes hyper-responsive sales reps, speedy turnaround times, high-quality outcomes, professional development by certified educators, and more.
With a proven track record of equipping over 30,000 classrooms with installed Promethean panels in more than 6,000 schools, Trafera's reach continues to expand. We take pride in our role in helping schools across the country elevate their teaching and learning experiences through the integration of modern technology.
Interested in working with us? Contact us today and let's work together to create a future ready learning environment that empowers both teachers and students to thrive.