April 25, 2023
6 min read
Students' lives are a complex blend of digital and real-world experiences. For many pre-teens and teens, nearly every aspect of life has elements that happen both on- and offline, whether that be during school or leisure time activities. It follows, then, that their well-being is intertwined with both in-person and virtual experiences.
For schools, promoting students' digital safety and mental health requires both digital and non-digital tactics Trafera's partner, Linewize, helps schools do so with powerful tools that blend data and analytics with heart and empathy.
Recently, we had the opportunity to speak with Linewize about student well-being in the digital world during a webinar that focused on the unique challenges faced by today's youth. Let's delve into some of the key insights from the conversation:
Meet Linewize: A Student Safety-First Organization Making a Difference in Education
Linewize is a student safety-first education technology organization committed to making a difference in education – at school, at home, and everywhere in between. The Linewize ecosystem is a unique response to the challenge of today's connected learning environments. Our suite of safety and wellness solutions offer a holistic approach to student welfare in the modern world. Our complementary products align to help districts maintain regulatory compliance, reduce administrative overhaul, safeguard students, and engage positively with parent communities.
Student Safety in a Digital World
In 2021, district leaders at 84% of elementary schools and 90% of middle and high schools reported providing devices to their students. This puts a specific responsibilities on schools to provide safe digital environments for their learners using these devices.
Over the past two years, mental health issues among young people have risen sharply. And with the increased time spent online, we need to be paying attention to how students are being affected in the digital world.
There are many signs that students are struggling to navigate the challenges of a semi-virtual life. Just look at some of these staggering statistics:
Suicide: As of 2019, intentional self-harm or suicide was the second leading cause of death among US teens aged 15 to 19 years, and the second leading cause of death among ages 10 to 14 years (CDC).
Abuse: At least 1 in 7 US children experienced child abuse and/or neglect in 2020. About 1 in 4 girls and 1 in 13 boys in the United States experience child sexual abuse (CDC).
Bullying: About 20% of students ages 12-18 experienced bullying nationwide, with 15% being bullied online or through text (StopBullying.gov).
Drugs: 46.6% of teens have tried illicit drugs by the time they're in 12th grade (National Center for Drug Abuse Statistics).
Violence: Nearly 50% of homicide perpetrators gave some type of warning signal, such as making a threat or leaving a note, before the event (

CDC

).
Extremism: Social media platforms have become instrumental in the radicalization of US extremists. In 2016, social media was involved in the radicalization processes of nearly 90% of extremists in the PIRUS data (

Start.umd.gov

).
Oversharing: A staggering 88% of teens using social media agree that people tend to overshare information about themselves, with 35% strongly agreeing with this statement (

PEW Research

).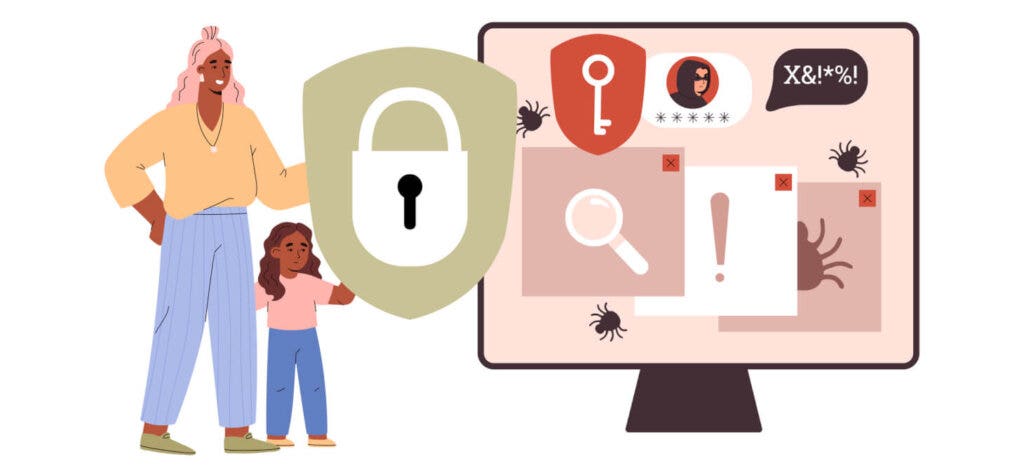 Promoting Digital Safety and Student Well-Being as a School
One of the biggest questions here is how can we help students in this mental health crisis?
In response to the student digital safety concerns related to this question, Linewize has developed a Well-Being Framework focused on three key pillars, providing schools with a comprehensive approach to help their students. These pillars are based on health and safety frameworks that education providers are already familiar with:
Prevention
Intervention
Education
This framework helps districts and schools identify priorities and augment their current approach, while encouraging a more robust, community-based system. Moreover, it enables educators, schools, and parents to collaboratively foster a secure and supportive digital environment, empowering students to overcome the challenges of the digital age and thrive in our interconnected world.
Linewize Tools That Promote Digital Safety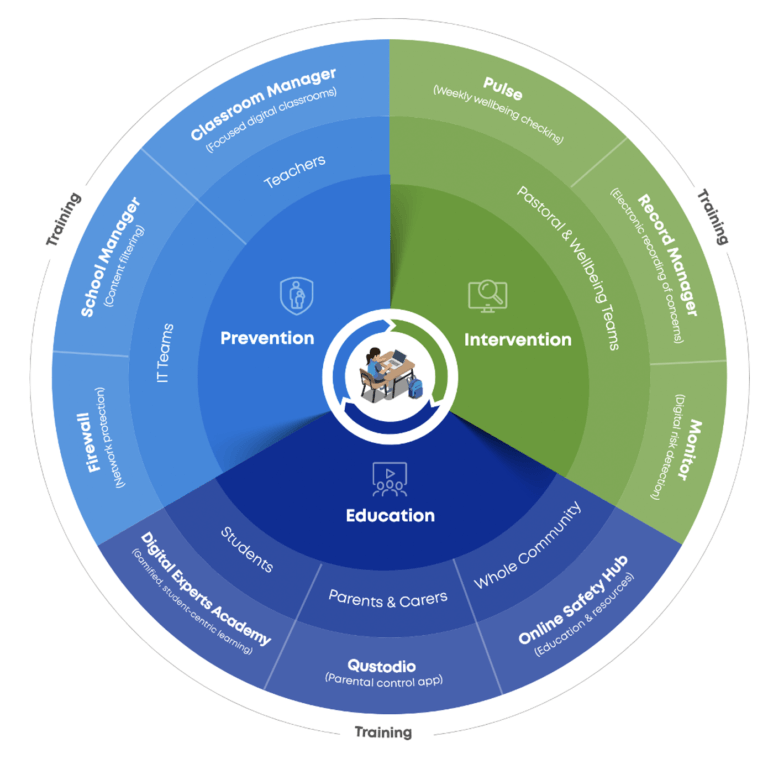 Hybrid-Cloud Filter offers multi-tenant and multi-deployment support, on-device filtering for all platforms, seamless directory and SIS integration for easy management, and the convenience of cloud-based administration accessible from anywhere.
Qustodio Parents App enables parents to collaborate with their child's school, ensuring consistent safety and balance for their educational devices, regardless of location.
Monitor helps schools identify at-risk children through proactive online monitoring and threat detection tools such as Student Safety Audit.
Pulse provides actionable insights into well-being and school culture through brief, 60-second weekly check-ins and tools like Student Well-Being Analysis.
Free Student Safety Tools
Linewize provides an excellent set of complementary tools focused on student safety for its users, including the Student Safety Audit (with Monitor) and the Student Well-Being Analysis (with Pulse).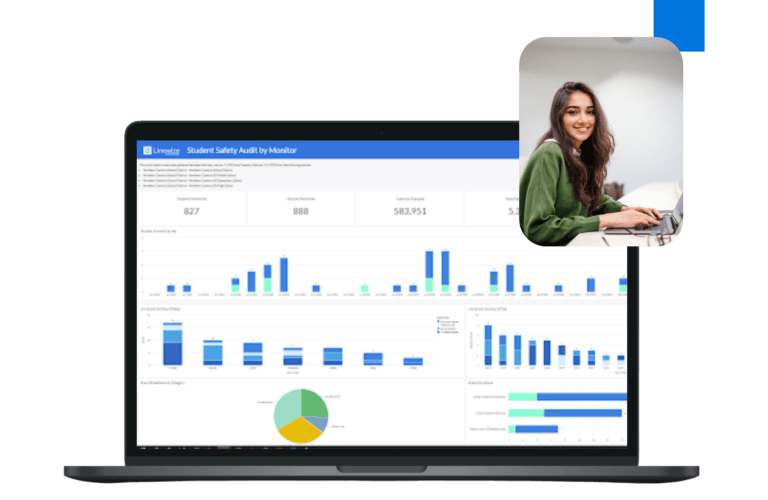 Student Safety Audit
The Linewize Student Safety Audit, designed for Linewize Monitor, provides US schools and districts with complementary risk profiles and recommendations for a comprehensive student safety program. During a 30-day period, Linewize will evaluate students' online behavior for risks and promptly alert schools of any students in danger. The audit addresses various risk areas, including:
School violence
Cyber or physical bullying
Inappropriate adult relationships
Self-harm
Suicide
Depression
Drug use and addiction
Sexual content
The audit utilizes artificial intelligence and a team of skilled moderators to minimize false positives and only alert schools about students who truly need attention. As a result, schools can go on and use the information from the audit to do things like enhance their student safety policies and target their digital safety education programs more effectively.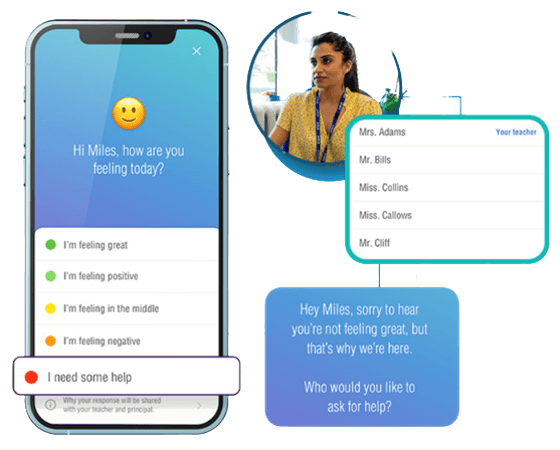 Student Well-Being Analysis (SWA)
The Linewize Student Well-Being Analysis is a complimentary 30-day program, designed for Linewize Pulse. It empowers schools to promptly identify students in need of support and assess the overall well-being of different student groups using real-time data. Following a swift onboarding process, schools can utilize weekly 60-second check-ins for specific student subsets, such as middle or high school populations.
After the 30-day period, schools receive a comprehensive student well-being report, which highlights important information such as students requiring urgent help, the percentage of struggling students, and the wellbeing categories that demand more focus.
Additionally, the report provides a holistic view of six wellbeing categories, including physical, mental, and emotional health, and evaluates the performance of existing programs and initiatives. Together, this data can equip schools with the ability to do things like:
Demonstrate the benefits of a wellbeing and culture platform
Identify trends
Allocate student support resources effectively
Advocate for additional resources when necessary.
Initiate discussions with school boards, superintendents, or other educational leaders and stakeholders.
Book your Student Well-Being Analysis
To learn more on how Linewize's tools can help student digital safety and well-being, be sure to watch our webinar and visit www.Linewize.com!