Lenovo's ThinkSystem DM5100F Wins Product of the Year
Lenovo is delighted and honored to announce that CRN® has recognized the ThinkSystem DM5100F as a winner in the 2021 Product of the Year Awards in the Storage – SMB category.
---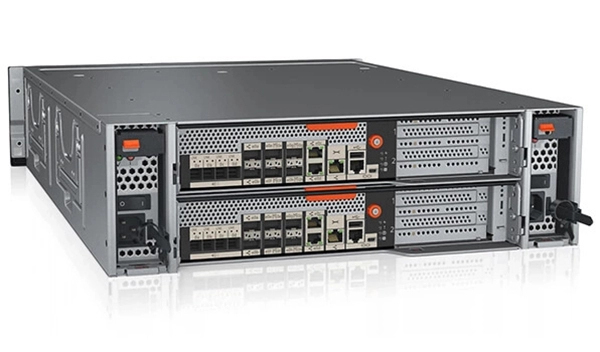 ---
The unanimous choice: ready for anything
It's no surprise that CRN selected the ThinkSystem DM5100F for the SMB category. With the DM5100F, particularly the DM5100F SAN model, your company—of whatever size—can start with a refreshingly affordable, feature-rich all-flash SAN solution and then grow and adapt as the needs of your organization dictate – probably in ways you can't even foresee. In fact, the DM5100F is the industry's only storage array that allows you to start small, with a simple, best-in-class SAN-only solution, and grow that solution to true unified, edge-to-cloud data management with a full range of enterprise-class features.
As an all-NVMe flash storage system including NVMe over Fabrics support, the ThinkSystem DM5100F positions you for years to come with a solution that can support high performance workloads, such as databases and AI, from end to end across regular Ethernet or Fibre Channel networks. A single DM5100F scales up to 737 TB of raw storage capacity, and you can add more systems as needed, up to 12 in a cluster. Plus, with our guaranteed 3:1 data efficiency (up to 8:1 depending on the workloads), you can maximize your storage capacity in a very small footprint.
Adapt to new workloads
With the DM5100F, you can easily upgrade from block-only workloads to NAS file storage with the industry's best file storage OS. What about object storage, maybe for video surveillance or AI workloads? Lenovo's DM5100F has native object storage, so that you don't have to buy a second solution that may be bigger than you actually need. Do you think you may want to tier cold data to the cloud, or use a cloud service for backup or business continuity? We support tiering and replication to all major cloud offerings including AWS S3, Google Cloud, Microsoft Azure, and more.
Secure your data
Most organizations are really concerned about cybersecurity and ransomware – and we've just announced expanded ransomware protection built into the DM Series software, along with API-level integration with leading cybersecurity solutions, so that you'll have peace of mind knowing that your business-critical data is protected from attackers.
And that's just the tip of the iceberg. All these features are available from the same easy-to-use, simple-to-manage interface.
Learn more and visit us; let's talk about how we can help you prepare for the future with the Lenovo ThinkSystem DM5100F, the data management solution with the flexibility, simplicity and power to allow you to "start here, go anywhere." Lenovo's ThinkSystem DM5100F is not only the CRN SMB product of the year—it's the product of the year for you!
More about CRN and the Product of the Year Awards:
"CRN's Products of the Year Awards are one of the most anticipated lists each year. This year's honorees include top-notch vendors who exhibit industry excellence for channel partners and their customers," said Blaine Raddon, CEO of The Channel Company. "We're proud to honor these innovative products and services and provide the industry guide for solution providers looking to expand their portfolio based on technological innovation, financial opportunity, and market need."
The CRN Products of the Year Awards are given to standout products and services that represent the best-in-breed technological innovation backed by a supportive channel partner program. The companies being recognized in this year's Products of the Year Awards provide innovative offerings to meet the continuously evolving needs of the IT market.
The CRN editorial team selected finalists in 30 different technology categories. Finalists were then rated by solution providers who have real-world experience with the products, scoring them on several criteria in areas such as Technology, Revenue and Profit, and Customer Need. This year's survey received more than 5,000 ratings.
---