Picture this: a classroom where movement sparks memories, physical energy fuels learning, and technology doesn't just enhance education—it transforms it. Now, let's bring that vision to life with Lü Interactive Playground.
An innovative solution for today's schools, Lü reshapes learning spaces into dynamic environments that stimulate the mind and body. The Lü system combines tools to promote physical activity, boost social-emotional skills, and cater to a variety of learning styles, all while delivering an engaging audio visual experience adaptable to various subjects. Intrigued? Let's dive in and discover the power of Lü Interactive Playgrounds.
What is Lü Interactive Playground?
In essence, Lü Interactive Playground is an immersive, interactive system that transforms traditional educational spaces into dynamic learning environments. Lü is much more than a projector system—it encompasses a variety of components that work in harmony to deliver a unique, multisensory experience.
Why Choose Lü Interactive Playground?
The merits of Lü extend beyond technology and educational enrichment. It addresses several challenges common in today's education. These include:
Encouraging Physical Activity
In an increasingly digital world, getting children enough physical activity takes a little creativity. Statistics indicate that less than 10% of children engage in the recommended 60 minutes of daily physical activity, and another study indicated that "physical activity could enhance cognitive functions like attention, memory, and executive functions."
Lü directly addresses these goals, combining interactive games and lessons with physical activity, to foster healthier habits among students. These engaging and interactive activities also create memorable learning experiences in students minds by reinforcing the curriculum in a fun and immersive way.
Teaching & Learning Consultant and STEM Specialist with over 20 years in education, Angela Kiser, talks about her own interaction with memorable learning experiences:
"I know when I was in a classroom with my students, any time we did any type of movement, or any type of song, my kids remembered it…even students who have graduated and have started families, have stopped me and said that they still remember songs we used to sing and those memorable learning experiences. I know that made an impact, so why not do something that creates movement and gets these students excited and interested to learn. And that is exactly what Lü does."
Prioritizing Social-Emotional and Physical Skills
Research outlined in an article from the journal Frontiers in Psychology, delves into the relationship between student well-being and academic performance and explains that factors like self-esteem, social integration, and a positive perception of a school's environment can all contribute significantly to student success.
Understanding the various needs of students, Lü designs numerous applications to nourish student well-being, fostering an environment that promotes both academic success and personal growth.
Take for instance the MÖÖD application. MÖÖD helps teachers understand and manage the emotional climate of a classroom. It facilitates real-time emotional check-ins, empowers teachers to adjust their instruction based on the collective mood of students, and nurtures empathy and communication within the classroom.
To go even further in enhancing student well-being, Lü recognizes the importance of mindfulness and relaxation when nurturing a school's environment with meditation apps like GAÏA. Through addressing anxiety, boosting self-awareness, and supporting social-emotional learning, the GAÏA application guides students towards a state of calm and focus. Research has widely recognized the benefits of meditation, particularly in contributing to children's overall well-being and GAÏA brings these benefits directly into learning environments.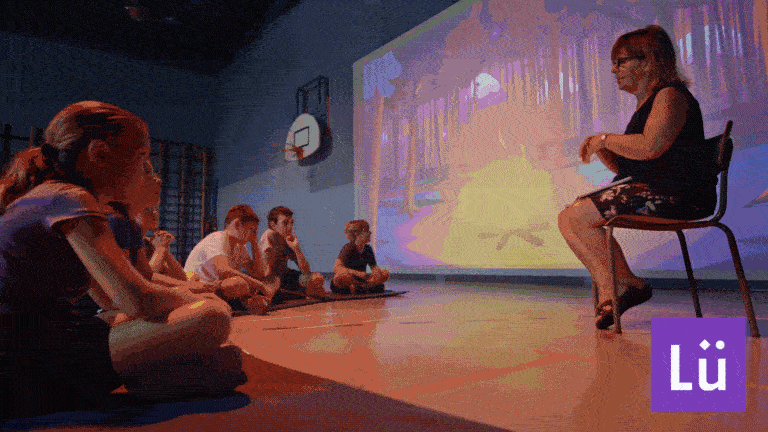 Empowering Diverse and Accessible Learning Experiences
Each student learns differently, and the teaching methods should reflect that.
Lü's platform embraces diverse learning. With a variety of applications and teaching styles, it allows educators to customize learning experiences, boosting student engagement, comprehension, and enjoyment.
The interactive system demonstrates its commitment to accessibility through a user-friendly design, rich in features like customizable games and activities. These cater to a broad range of learning styles and abilities. Plus, with regular updates keeping content fresh and engaging, Lü fosters an inclusive, easy-to-navigate learning environment that truly welcomes all.
Additionally, educators can adapt the complexity of activities to align with individual student needs, ensuring that all learners fully engage. Lü Community platform takes this a step further, allowing educators to create their own content and customize existing lessons. This unique feature elevates the learning experience by allowing for personalized, targeted instruction that suits the specific needs and abilities of every student. As a result, regardless of their learning style or ability, all students can fully benefit from Lü's interactive educational experiences.
Bringing Lü To Your School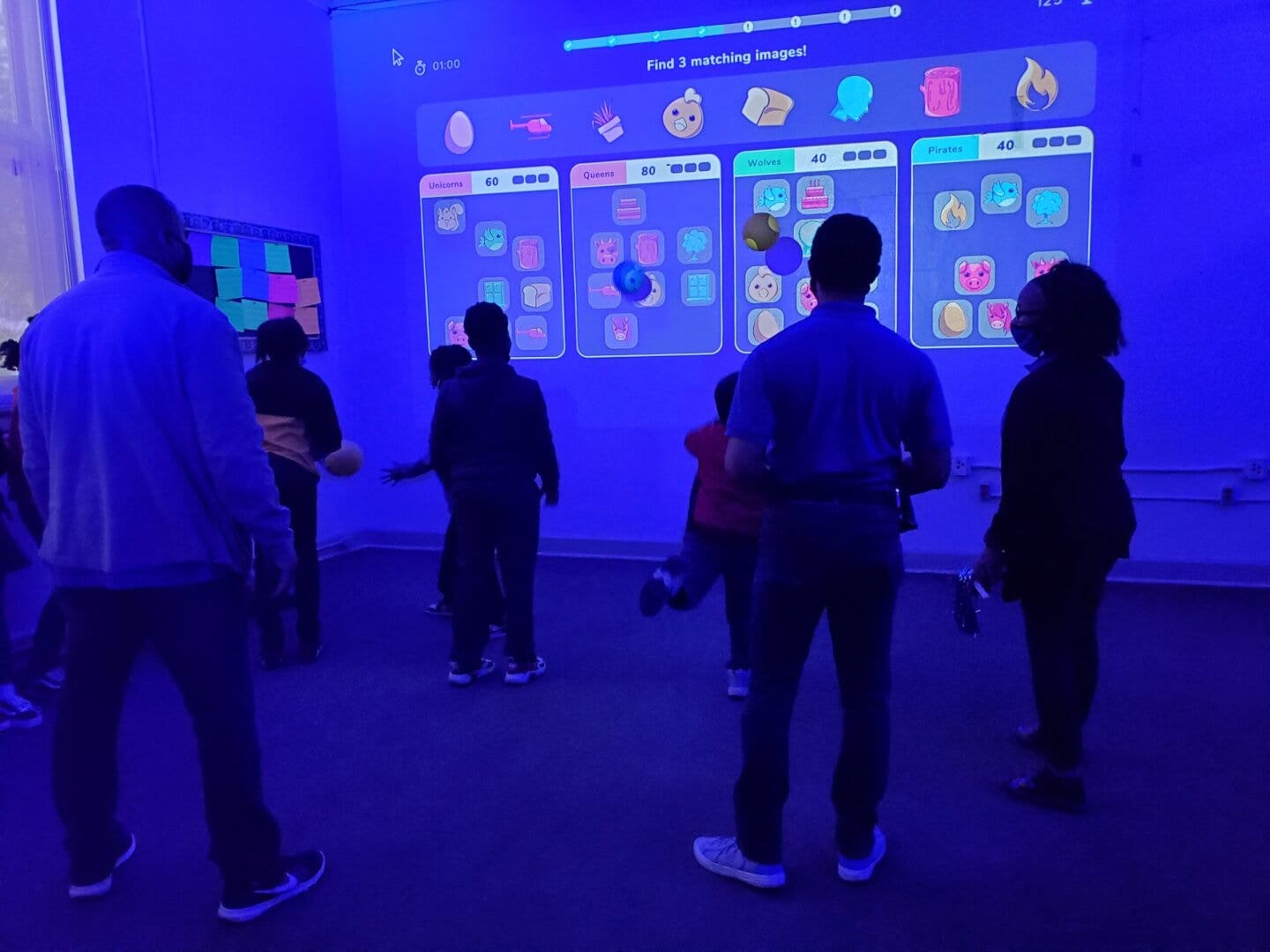 Choosing a Lü System
Lü comes in three configurations, ÜNO, DÜO, and MÖBIL, each designed to cater to different spatial requirements and educational needs. Regardless of the Lü system a school chooses, each ones includes:
High-Definition Laser Projector: The heart of the Lü system is a powerful, 6000 lumens, encased laser projector. This projector is capable of casting a large 12 by 19 feet projection, transforming any wall into an interactive learning space.
Movement Detection Camera: To make the projection interactive, the system includes a movement detection camera. This camera picks up gestures and movements, allowing students to physically interact with the projected content.
Multicolored LED Lighting: Enhancing the immersive experience is a multicolored LED lighting system. These lights can change and adapt to create the right ambiance for every activity.
Dual Speaker Sound System and Microphone Headset: Sound is a crucial part of the immersive experience. That;s why Lü incorporates a powerful 2400-watt dual speaker system along with a microphone headset for voice amplification.
Internal Windows Computer: The system runs on an internal Windows computer. This computer is the hub of the system, connecting all the components together, enabling device mirroring, and driving the operations of the Lü system.
Lü ÜNO

Schools are the target for the ÜNO configuration, which features a ceiling-mounted, single-wall system and comprises four pre-assembled modules: camera, light and sound, projection, and the system's core or 'heart'.
Lü DÜO

As an expanded version of ÜNO, the DÜO configuration offers a double-wall setup for a more immersive experience. Composed of two ÜNO kits facing each other and synchronized, the DÜO expands the playground for multiplayer interactions, making it the ultimate Lü experience.
Lü MÖBIL

For more transient needs, the MÖBIL configuration provides a moveable, standalone, single-wall system. Perfect for event-based rental companies and recreation centers, MÖBIL can be installed in less than 20 minutes and transported in a small van.
Meeting Space Requirements
You may be wondering what you need space wise to bring Lü to a school. For the effective utilization of Lü systems, you'll need a clear wall area that has a solid light or white background and is large enough to accommodate its projection size. Depending on the system, the wall space requirements can vary.
These requirements ensure that the projected images and applications are fully visible, and maximize the interactive experience for students. You should also make sure that the area in front of the wall is open and accessible, allowing students the freedom to move and engage fully with the projected content.
The space requirements for each Lü are as follows:
ÜNO Wall Space Size Requirements:
Gym installation: 19'x12' (no limit on ceiling height requirement)
Small room installation: 8'x14' (10' minimum for ceiling height requirement)
DÜO Wall Space Size Requirements:
Gym installation: 2 separate 19'x12' wall spaces (no limit on ceiling height requirement)
MÖBIL Wall Space Size requirements:
Small room installation: 8'x14' (10' minimum for ceiling height requirement)
Lü Apps and Collaborative Community
Lü is more than an educational platform, it is a treasure trove of resources that's designed to empower teaching with innovative tools and ignite an excitement for learning. This goes beyond just the technology, Lü offers a thriving ecosystem and community where teaching and learning can inspire each other with a mix of:
Comprehensive, Customizable Applications
At the heart of Lü Interactive Playgrounds are the applications – an ever-evolving portfolio of curriculum based tools spanning all subject matters. These apps are consistently updated and can be customized to align with your local curriculum and cater to different age groups. Whether it's a lesson in language, mathematics, science and technology, social studies, or arts, Lü has an app to make learning interactive and engaging.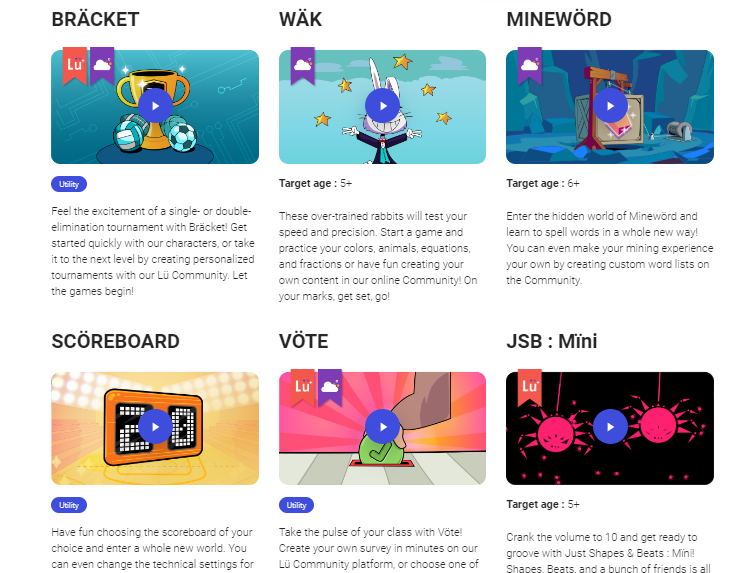 These applications are offered in two tiers of service, each designed to cater to different educational needs and budgets. Let's compare the two:
Lü Standard:
The standard package provides a robust introduction to Lü's capabilities. For no additional cost, users gain access to over 30 educational apps spanning various subjects, along with limited access to basic features of the Lü Community. New applications are released periodically, ensuring a fresh and dynamic experience.
Lü+:
For a yearly fee of $1500, Lü+ offers a premium experience that significantly enhances the power of your Lü system. This includes:
Access to a premium portfolio of over 50 Lü+ educational apps.
Full access to all features of the Lü Community.
Consistent release of new applications, keeping the content engaging and relevant.
Unlocked premium features within the existing applications.
Early access to new and exciting system upgrade releases.
Whether you opt for Lü Standard or Lü+, you'll be getting a tool that will enrich your educational approach and engage your students in an immersive learning experience.
An Interactive, Collaborative Community
The Lü Community goes beyond the four walls of your institution, creating an online platform that fosters collaboration and creativity. As a member, you can explore, like, duplicate, and customize content created by educators worldwide, offering a fresh perspective and a multitude of new learning opportunities.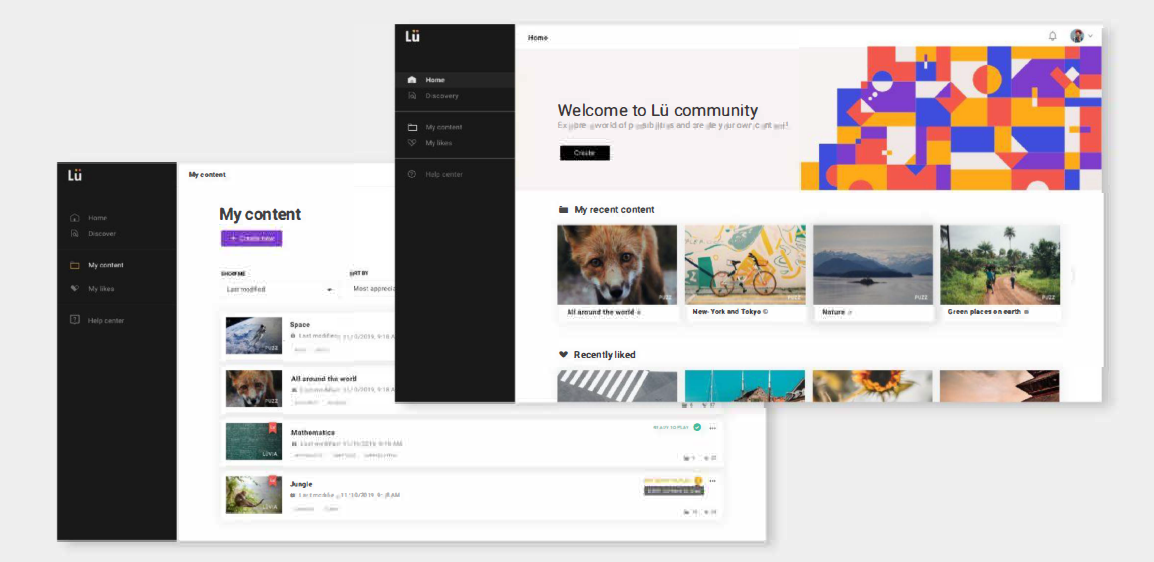 Lü In Action
To truly appreciate the potential impact of investing in Lü, let's examine real-world examples of how schools have benefited from implementing these interactive playgrounds.
Case 1: Boley Elementary
Principal Sandy Bates of Boley Elementary highlighted the impact that the Lü Interactive Playground has had on her school, and the exceptional support received from Trafera during the installation process, which required modifications to the acoustic panels in their multipurpose room.
Speaking on the school's experience, Bates said,
"They love it. The students get so excited when they are using the Lü. I love to pull them up on my camera and watch the excitement. And the teachers love using it too. It is still new to us, so the teachers are learning new things every day."
Not only was the Lü system an instant hit with students and teachers alike, but the installation process was also made significantly more manageable with Trafera's assistance. Bates praised Trafera's transparent communication, saying, "They copied me in every email that was sent to the Title I Department. They let me know exactly what they were doing, when they were going to be here and how long it would take. I was very informed of the installation/implementation process."
Case 2: West Baton Rouge Parish Schools
In the case of West Baton Rouge Parish Schools, the technology facilitator, Stephanie Thompson, learned about Lü Interactive Playgrounds at the LACUE Conference through Trafera. She highlighted Trafera's help in the process and how their school benefits from Lü today:
"The process was easy. Trafera walked around each campus to find the best location. They talked through the logistics with our team. Angela [Trafera's Teaching and Learning Specialist] helped get me trained and in contact with the Lü team. She helped every time I had a question and when we ran into issues, they were there to help. Now our students all love it and there is so much excitement around learning. "
In the same district, Dr. Tammy Seneca, the Supervisor of Information Systems and Educational Technology, reiterated the love their community has for the Lü systems and talked about the reasoning the district decided to invest in Lu: "We wanted to provide our students with a different way to look at physical education and learning. And found that Lü is a great way to do that! Our students love it and it is lots of fun while being a great way to learn as well!"
These examples are just a glimpse into the transformative power of Lü. Every school has unique challenges and opportunities, and it's important to choose the right Lü configuration and educational content to align with your institution's goals.
Lü's Funding Success Stories
As a part of our comprehensive support, Trafera's Angela Kiser has helped numerous schools navigate the financial landscape to secure a Lü Interactive Playground. Recognizing that funding often poses a significant hurdle in integrating new educational technologies, it's reassuring to note that Lü has repeatedly been a successful candidate for various federal funding resources.
Many of the larger implementations that Trafera has assisted in have been financed through Title 1 funds. Given Lü's exceptional range of over 50 applications that span all subject matters, it has been recognized as a powerful tool in supporting students from historically low socio-economic backgrounds, offering them fair and equitable opportunities for academic achievement. Lü also has a proven track record in boosting parental engagement in school activities, with many principals reporting increased attendance at parent night events since the introduction of Lü.
To date, Trafera has helped with full Title 1 implementations of Lü in over 25 schools in North Louisiana with more in progress (bringing the number closer to 40 systems in 40 schools).
Lü has also been recognized as an appropriate use of funds for pandemic learning loss through the ESSER (Elementary and Secondary School Emergency Relief) Fund. Lü aligns with ESSER's funding requirements as it's uniquely designed to help students recall prior knowledge, refresh skills learned in traditional classrooms, and return to an engaging, active school culture where every child thrives. This happens through the interactivity of the system components and the applications.
Given these funding opportunities, schools and districts are well-positioned to secure a Lü Interactive Playground system.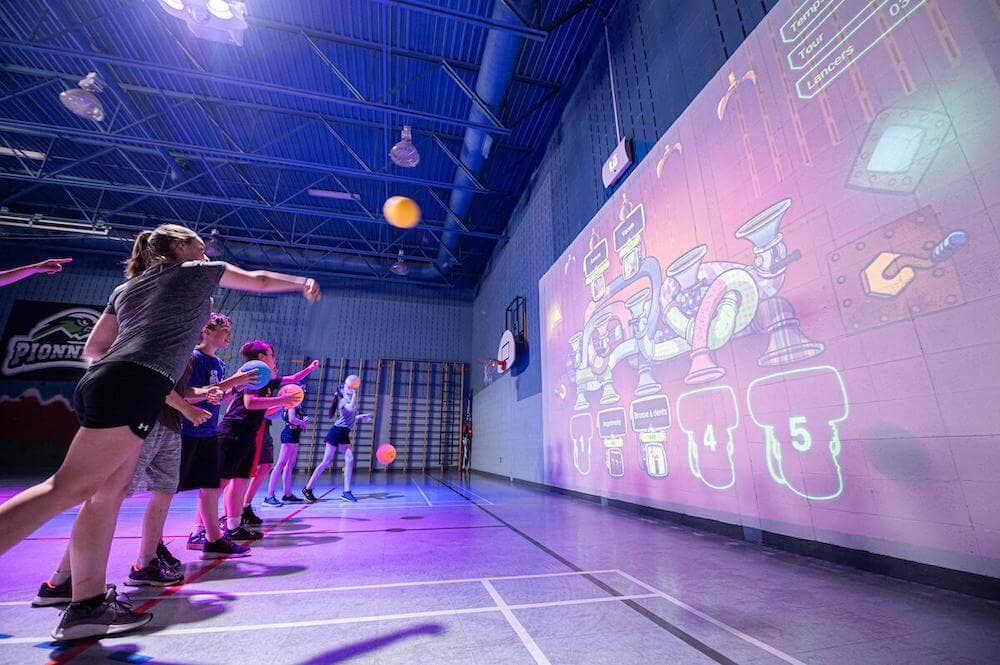 Partner with Trafera to Bring Lü To Your School
When you're ready to bring the magic of Lü to your school, Trafera is here to ensure a seamless experience. As seen in the examples above, Trafera provides exceptional support, from recommending the most suitable Lü system to aiding in the implementation and installation process, and even providing extensive training.
Choosing Lü means investing in an educational tool that brings fun, learning, and physical activity together, engaging students like never before, and inspiring teachers to explore new teaching methods; and, with the continuous support from Trafera, the journey will undoubtedly be a success. Contact us today to learn more!